Ever wonder why clothing never quite fits you?
Not sure what 'size' you are?
Want to

take control

of your wardrobe?
And have fun doing so?
Skirt Skills is a 5-week Intro eCourse where you learn the process of creating custom clothing.
As a beginner, you'll learn to design, draft, create, and complete custom-fit skirts with the personal help and guidance of instructor Brooks Ann Camper and an online community of classmates. "I never dreamed I could design and construct my own clothing! It has done wonders for my self-esteem to learn this skill." - SHANNAN
Skirt Skills

 offers a new way of thinking about what we wear.
Do any of these statements sound like you?
You've always wondered how to make clothing of your own design.
You are tired of trying 'industry standard' sizing on your non-industry-standard body.
You would like to be more conscious about where your clothing comes from.
You've struggled with sewing, drafting, or using commercial patterns and are looking for a fresh start.
You need time, feedback, and motivation in order to finish a project.
You like sewing, but you want your clothing to look professional rather than "homemade".
You are new to garment sewing and don't want to waste time making clothes that don't fit or aren't your style.
You love being creative and would like to know more about the art of custom garment creation.
You love skirts and want to create a closet full of them!
Skirt Skills might be a great fit for you! "Thanks to this course, I am no longer at the mercy of the ready-to-wear industry or even the pattern companies!" - PAULA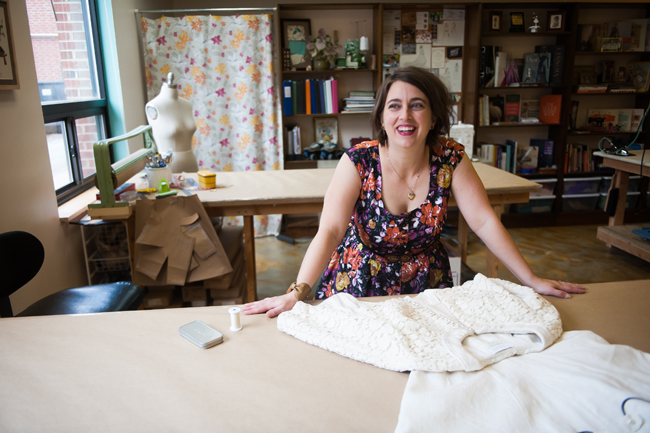 About the instructor
Brooks Ann first learned to sew as an adult in professional workrooms that created custom garments for individuals.
In contrast to the "crafty" home sewing approach or the "industry standard" fashion design approach, Brooks Ann has a unique perspective on learning a valuable process that is not often taught: custom-made clothing. After years of working in professional theatre (including Broadway) and as a custom wedding dress designer, Brooks Ann is now sharing her secrets with the sew-curious. "I learned more about fit in this course than all the Vogue sewing books, back issues of Threads, and confusing conversations with my mother combined." – ELLE
What does the class cover?
Together we will create and complete:
A personally sized skirt block that can be used as a template to create future custom-fit patterns
At least one hand drafted skirt pattern of your own design, and options to create many more
A completed skirt in your custom size from your own pattern
A notebook of samples, sketches, and design inspirations to reference in future projects
A foundation for pattern drafting, fitting, design, and construction of custom garments
The prerequisite for follow-up courses to create custom pants and tops
Skirt Skills Members receive:
5 weeks of lessons, including 10+ hours of video, worksheets, bonus links, and hands-on exercises
Unlimited ongoing access to a private course website to view or download all of the lessons and materials
Unlimited ongoing membership in a private Facebook Group where you can connect and share with your instructor and classmates
One-on-one ongoing email support for all students, including those less inclined to share in a group or working at their own pace
Optional Skype and In-Studio Office Hours where you can work personally with your instructor in real-time, both online or in-person "Even as a beginner, I can now start wearing clothes that make me feel like the real me. This course is brilliant and I loved every minute of it!" - DEBBIE

Upcoming Course Sessions
Skirt Skills starts March 4, 2019 and runs for 5 weeks (or at your own pace).
→ Registration is SOLD OUT!
→ The next session will likely begin in June or July 2019.
Join the email list!
Stay informed about Skirt Skills and be the first to know when new courses and new course dates are announced. I also share a peek into my library of reference books in the first email!


Have questions? Visit the Frequently Asked Questions page or send me an email. I'd love to hear from you!